Apparently, 2018 will be an interesting year in terms of SEO. Let's take a look at what to expect.
Search engine optimization done properly is a multi-layered, increasingly complex process. Despite there being already over 200 factors affecting SEO, the game is ever-changing. This poses the challenge of adaptation.
While search engines make their best effort to improve the accuracy of search results, they add, remove, and change a lot of the factors involved in delivering those results. In an attempt to help you stay ahead of the curve, here's a list with some of the expected trends that'll make headlines in online marketing news, including advice on how to prepare for them.
1. Growing Use of SERP features
If you're under the assumption that a high organic ranking is your only chance at getting a ton of traffic, you're wrong. SERP features including, but not limited to, Featured Snippets, Knowledge Panels and Local Packs, are stealing the thunder from organic search. It makes perfect sense when you think about how Google's SERPs have changed throughout the years.
Two imperative things to keep in mind as far as SERP features concerned are: (1) tracking your rankings within the features and, (2) monitoring the features and checking to see which competitors could be stealing traffic from your site.
You can extract valuable information from the data you'll be able to use in planning your future content marketing strategies. For instance, can you get a featured snippet for a specific query? Building on this…
2. Implementing Structured Data
Essentially, structured data is a unique way of formatting HTML, which uses specific words to tell search engines how to read the content, as well as what order to display it within the SERPs. Although Google has never actually said that structured data is a ranking signal, they'll still allow you to enhance your listings in multiple ways.
Knowledge Graph panels are valuable snippets and can really help you out. In some instances, you could increase the click-through-rate of your listings by up to 30 percent.
You should absolutely implement structured data into your SEO game plan. There are multiple formats you can use, but the most common one is Schema.org.
3. The Faster, The Better
Speed is important. It's an obvious ranking signal, but it's also a key UX factor. UX will impact rankings. Connect the dots and you'll find yourself coming to the same conclusion – site speed is important.
How fast does Google want you to be? Google prefers pages to load in less than three seconds. How do you get there?
First things first, take the page speed test that Google offers. It's integrated into their Developer Tools section and available as a free version labeled PageSpeed Insights. PageSpeed Insights analyzes the content of the web page entered, then generates suggestions to make that page faster.
4. We Meet Again, Relevance…
Understandably, it's becoming more and more difficult to convince Google you have good content when, in actuality, you don't. It's also getting easier to be penalized for trying.
There are multiple ways in which Google assesses the quality of your content and one of them is Latent Semantic Indexing. By viewing billions of pages and all the terms that are used in them, Google can learn which terms are related and eventually expect certain terms to appear within a certain context.
Using RankBrain, Google can go through the best search results (according to their metrics) and look for some of the similarities between all of them. Of the shared components, keyword terms, specifically, can become the standard for ranking signals given a certain query.
How can you assure that your content is going to perform well? You should be manually researching the best performing pages for the shared components, similarly to RankBrain. Make note of keywords and phrases that appear repeatedly and make use of the Google Keyword Research Tool to generate more suggestions.
5. Voice Search is Here to Stay
Astoundingly, Google's reported that over 50 percent of teens and 40 percent of adults use voice search daily. Yup, daily. Behshad Behzadi, of Google, has also said that the ratio of voice search is growing at a faster rate than that of type. This, however, presents a new challenge. As far as keyword research is concerned, voice searchers tend to use typical, conversational phrases instead of the standard search query language.
Answer the Public is an enormous help when analyzing the questions that voice searchers are most likely to pose. Simply start typing in keywords and within seconds, you'll find plenty of questions you should be targeting.
6. Can't Afford to Give Mobile the Cold Shoulder
As a result of the increasing use of voice search, more than half of Google's searches come from mobile devices. With the pending mobile-first index and mobile-friendly ranking factors having their effects felt, it is not wise to ignore mobile SEO. In fact, it's essential for a successful SEO campaign.
To start off, make sure your pages are compatible on mobile. Google does have a mobile test that's also available online within their Developer Tools section: Mobile Friendly Test. Similar to the page speed results, click on an issue and find out how to fix it.
As simple as SEO can be to utilize, it is a constantly evolving technique that needs a good understanding and a knowledge base of what is new or on the horizon for ranking schemes.
7. Backlinks Without Links
Links have been the premiere ranking signal for search engines over the years, the signal that most SEO expert spent the most time optimizing. However, once again… the game is ever changing. It seems that mentions without links may perhaps become an off-page equivalent to traditional backlinks.
By associating mentions with brands, a search engine can use that information to suggest a website's authority. A former senior product manager for Bing unveiled that Bing has already implemented "brand mentions" in rankings.
Aside from the usual backlink checker programs, be sure to set up a Google Alert to monitor mentions of your company or specific names.
8. SERPs are Getting Personal
The more personalized search results aren't determined solely using the more traditional ranking factors, but they're also based up information about the user, i.e. location, interests, search history.
Not just Google, but the other big search engines, namely Yahoo and Bing, personalize their results in a variety of ways. In 2011, an experiment proved that Google was personalizing over half their searches, a number that has likely only increased since then.
Now, personalized search isn't always going to be working against you. When a user initially searches for one of your keywords, you've got to make sure you're at the front of the line on an unbiased SERP as far as results go. Given the user views your listing, you'll have become their preferred source and any subsequent searches will, for the most part, include your website as one of the top results.
Don't forget that it's really important to ensure that your rank tracking is as accurate as it can be. To view unbiased SERPs, make sure to use Incognito/Private mode available in most browsers.
9. The Increasing Emphasis on Visual Search
Visual search is an interesting combination of innovative technology and a user-friendly component. Each of the big three search engines have already invested in the development of visual search engines to try and take advantage of the trend.
Going forward, SEO campaigns need to take into consideration the way in which people consume watchable content and also how search engines will go above and beyond to take it into account.
While more and more companies are beginning to acknowledge the weight that good, engaging visual content can have, now is the time to step in and implement this into your SEO strategy. The less competition, the better you'll perform.
Quote by Forbes Agency Council: 12 SEO Trends Heating Up 2018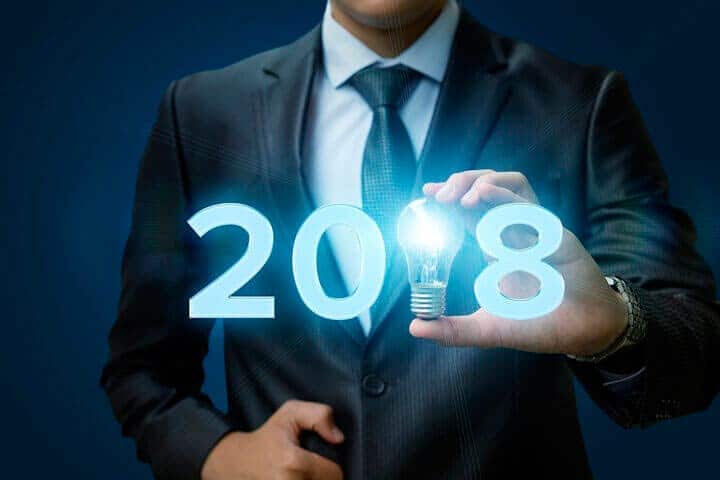 ---