Hyperlocal Search Engine Optimization with Wix
Hyperlocal marketing is nothing new. In fact, it's one of the oldest marketing techniques known to man.
Picture the billboards you pass on the way to work that advertise local restaurants. That's hyperlocal marketing.
What about the sign on your neighbor's lawn that the contractor left after finishing up their new roof installation? Again, hyperlocal marketing.
Flyers on your windshield at the train station? Yup, hyperlocal marketing.
Most business owners understand that targeting potential customers or clients locally makes sense. So, how do we translate that to the digital marketing spectrum?
Hyperlocal SEO with Wix is the New Windshield Flyer
Optimizing your website to help reach a local audience is the easiest way to help your business grow.
Greater local web visibility will ultimately mean more local traffic, more local clients and more sales.
You can set up your website to blanket a single neighborhood, an entire town, a county, a state or an even larger geographic region.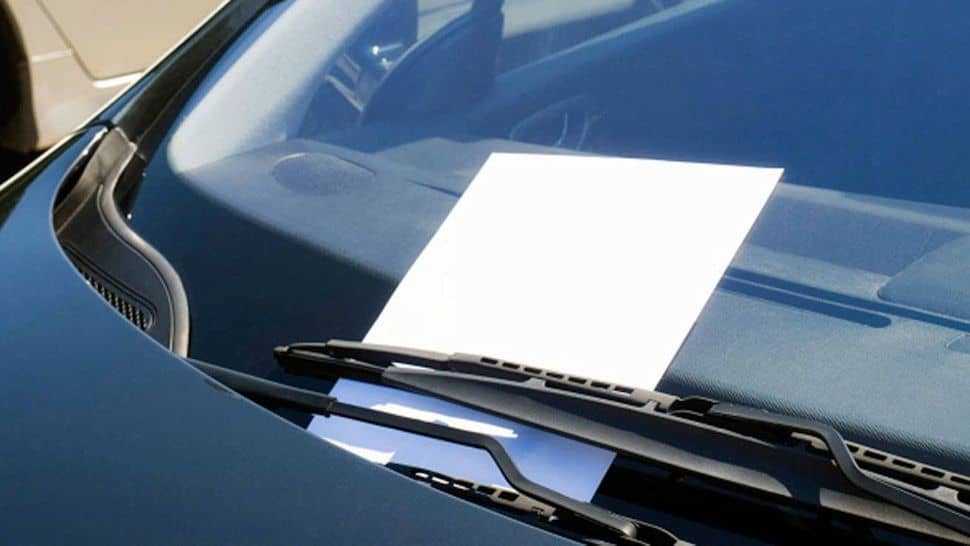 The first step is deciding where you want to begin generating targeted web traffic from. If you decide your best bet is to begin with the town where your business is based and some of the surrounding cities, then work on optimizing your website for those locations first.
The term hyperlocal marketing itself should tell you that you'll be targeting a very defined geographic area. The more defined your target location, the easier it will be to convince Google that your website is the preferred destination of choice for local web visitors.
Your goal is to make your website as relevant as possible to a specific location so that local consumers are able to find your content, products or services with a simple search engine query.
Hyperlocal Marketing Stats
The numbers point to the fact that hyperlocal marketing is enormously effective when done right. Most small business owners have a vast potential audience in their own backyard provided they're able to tap into that audience.
These numbers demonstrate that local search is a huge determining factor in where consumers end up making a purchase. Your business needs to take advantage of this opportunity.
How Wix Makes Hyperlocal SEO Easy
Hyperlocal search engine optimization for small business websites is as easy as it's ever been for websites using the Wix platform. The native SEO tools within Wix allow for geo-targeting at scale.
You'll need to make your website as geographically relevant as possible to your target location and search audience. Wix provides us with the tools and apps to do so.
Page level meta tags
Customizable URL structure
Full control of header tags
Alt text image optimization
Keyword friendly text content
And those are just some of the basic options available within the website editor itself. When digging deeper into the arsenal, tools such as the Wix SEO Wiz and additional apps available in the Wix App Market allow you to take your optimization efforts to the next level.
Advanced blogging capabilities to target valuable longtail keywords
Google Analytics and Search Console integration
Instant Google indexing
Customizable page level scripts for Schema markup usage
Auto-generated XML sitemaps
In short, everything you'll need to turn your website into a local SEO powerhouse is available at your fingertips.
Our 5-Step Wix Local SEO Game Plan
The beauty of working with Wix is that it allows you to simplify your organic search engine optimization strategy. In this case, simpler is better.
You're able to scale down the website bloat you'd encounter by eliminating all the additional plugins required with a typical WordPress site. Less bloat means a better Google Pagespeed Insights score which is a significant ranking factor these days.
Now you're able to get back to basics and begin implementation of our 5-Step Wix Local SEO Game Plan…
Step 1: Keyword Research
Step one in this instance (and any digital marketing campaign for that matter) is proper keyword research. Your website needs to be optimized for those keywords that a local consumer is likely to use when searching for products or services similar to your own offerings.
You'll need to uncover those core keywords that a potential customer is likely to use when they're ready to take action – keywords that signify buyer intent.
With a hyperlocal search strategy your goal is to rank for dozens, hundreds or even thousands of localized long tail keywords – phrases of 3-5+ words strung together along with a geographic qualifier.
Think along the lines of "Best Italian restaurant in Manhattan" as a typical localized long tail keyword. It includes exactly what the searcher is looking for and is location specific. If you owned an Italian restaurant in Manhattan, this would be the gold standard of keywords you'd want to rank for.
The individual search volumes for local long tail keywords is usually miniscule. Some keywords may generate as little as 10 searches per month or fewer. Collectively though, the search volumes can be staggering if you're able to rank your site for thousands of keyword variations in your primary and surrounding target locations.
The beauty of long tail keywords is that they tend to deliver a very targeted audience as they are so specific in nature. Despite the low individual search volumes, these keywords often have very high conversion ratios – especially those that signify an intent to purchase.
By putting this keyword strategy into practice, you're able to drive pre-qualified traffic to your product and service pages.
Your job is to brainstorm keyword ideas related to your products or services and then tack on a geographic qualifier to each one.
Using the previous Italian restaurant example, you'd want to look for both descriptive and location variations that make sense. Some examples might be:
Best Italian Restaurant in Manhattan
Trendy Italian Restaurant NYC
Top Rated Italian Bistro New York City
Italian Café Near Me
We suggest reviewing an updated keyword research guide for more detailed instructions on putting together your list of long tail keywords.
Step 2: Content Edits
Once you have your list of local long tail keywords in place, your next step is to optimize your website content accordingly.
You'll need to sprinkle these keyword phrase variations throughout the headings and text content on each page where it makes sense to do so.
We suggest organizing your keywords together into topical groups to make things easier. Where it once made sense to optimize your pages for one specific keyword, Google now gives preference to topically themed pages that have the potential to rank for dozens of different keywords. You may sometimes hear this referred to as LSI or Latent Semantic Indexing.
LSI keywords are simply keywords that are semantically related because they share the same context and are often found together. As an example, "menu" and "reservations" are keywords semantically related to restaurants.
You'll want to use one variation of your keyword in the page title or H1 heading and very similar variations of that same keyword in the H2/H3 headings and body content. Mix it up for best results.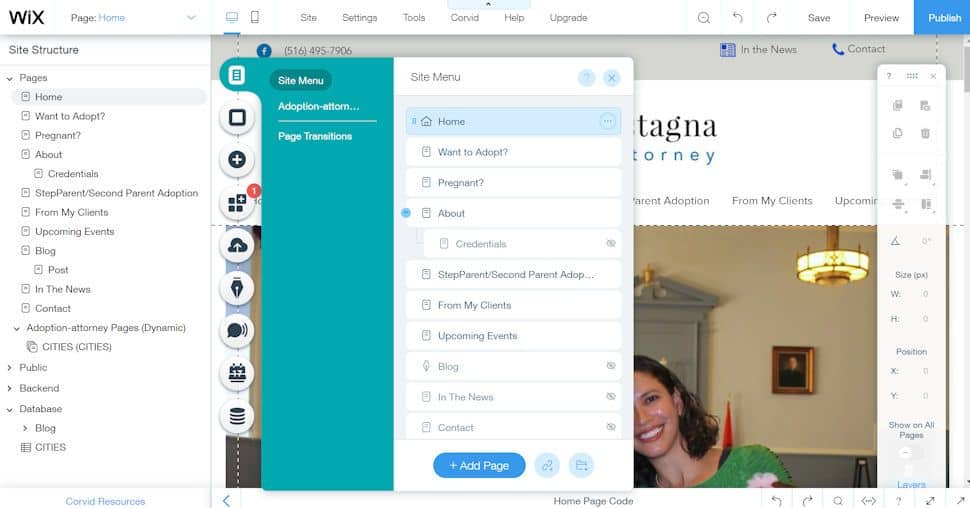 You're also able to sprinkle variations of your keywords across your website images by making use of the Wix alt text editor to add keyword friendly descriptions for each image on your site.
We strongly suggest you take a peek at those websites already ranking on page one of Google for your preferred keywords to see how they've optimized their pages. Use what they've done as an example – Google is obviously rewarding them so follow the blueprint that's already been laid out for you.
Step 3: URL and Meta Data Edits
Some may suggest putting this step ahead of your content edits, but we prefer creating our topically themed pages first and then working on URL and meta data updates. It's up to you and how comfortable you are with the order of these steps.
Wix makes is easy for you to update the URL structure of your individual pages if it makes sense to do so. Just be careful here to avoid any broken links on other pages of your site and creating unnecessary 404 errors. Google does take the user experience into account for ranking purposes so a lot of broken links can have a negative effect. Make note of each URL that you change including both the old and new URL structure.
Sticking with the restaurant website example, you may want to update the URL's for your fine wine list or dessert menu pages.
https://www.fakeitalianrestaurantsite.com/fine-italian-wines/
https://www.fakeitalianrestaurantsite.com/italian-dessert-menu/
The above URL's allow you to include your keywords in the URL itself. This is extremely useful in establishing keyword relevancy for your pages in the eyes of Google.
Google understands that the first URL example is a page about Italian wines. You're able to further reinforce this relevance by sprinkling your LSI keywords throughout the content of the page. Maybe you've listed a Pinot Grigio or a Chianti on your wine page – these related terms just add to your topical relevancy.
Remember to create a 301 redirect from the old URL to the new one for each page URL you've updated.
As for the meta title and meta description, you're able to include keyword friendly subject matter here as well. Wix once again makes it easy to do so in the SEO settings section of each page on your site.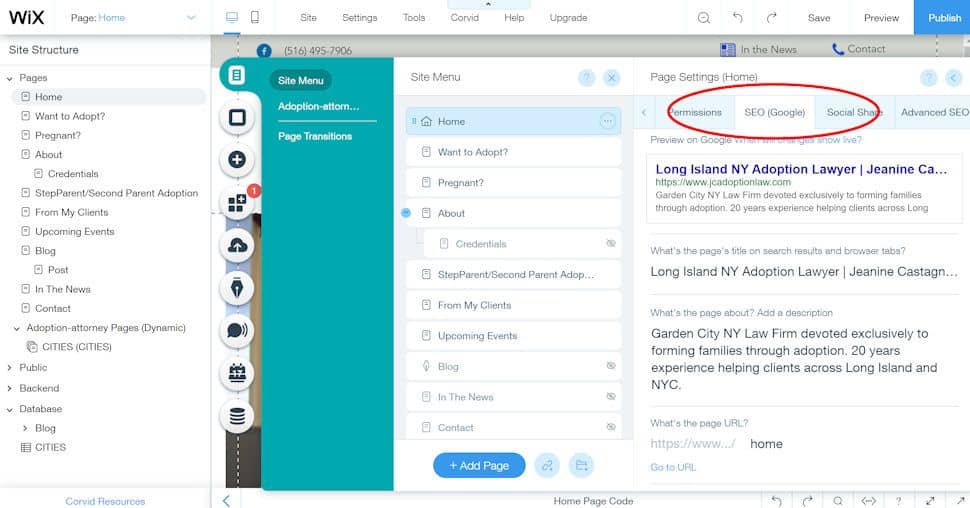 You'll want to include your primary keyword in your Meta Title and be sure to craft a well written version of 60 characters or less for best results. Anything longer than 60 characters may not display properly within the search engine results pages.
The Meta Description should include LSI variations of your primary keyword and ideally be less than 160 characters to display properly. You'll find that it takes some practice to craft meta descriptions that are well written, easy to read and include all the necessary page information while remaining keyword friendly.
Step 4: Schema Markup
Schema Markup is also referred to as structured data and was first introduced in 2011 as a collaborative effort by Google, Yahoo, Bing and Yandex. It allows you to add code to your website that search engines can use to better understand and classify your website content.
When creating the schema markup code for the example restaurant website, you're able to explicitly state business properties to Google such as:
Whether or not you accept reservations
Type of cuisine served
Listing of an online menu
Current cumulative star ratings
Hours of operation
Price range
…and dozens more types of data which you're able to discover at the official Schema.org website.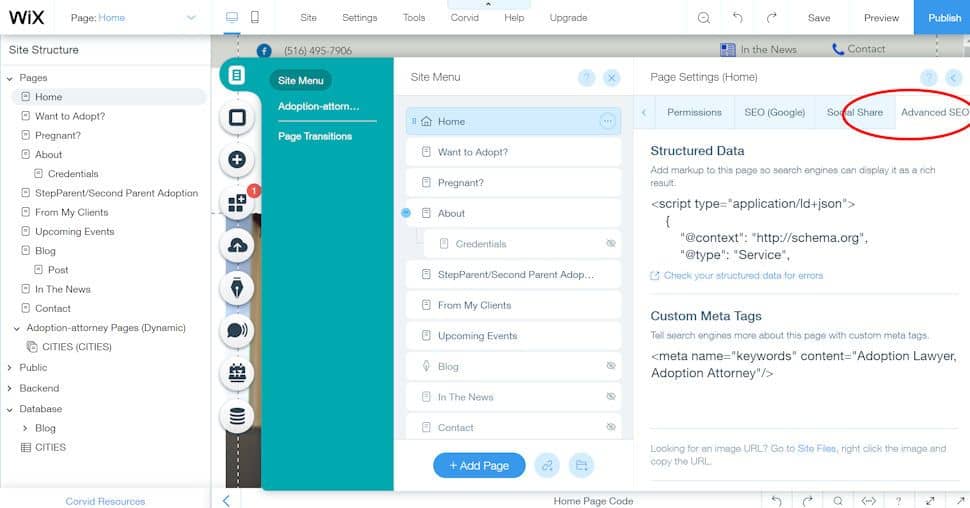 A proper explanation as to how you'd go about coding your own local business schema markup from scratch would require a separate and very detailed tutorial of its own. There are numerous schema markup generators out there that will automatically generate the proper code for you once you enter your data into the required fields.
If you do use a code generator, be sure to check the code for errors using Google's own Structured Data Testing Tool before adding it to your website.
Once you're positive your local business schema code is valid, you're able to paste it into your website using the Wix Advanced SEO settings Structured Data field. For most websites, we'd recommend pasting the code into your home and contact pages.
Step 5: Wix Dynamic Pages
This is the secret sauce for our local business SEO strategy. This is what allows us to rank for hundreds or even thousands of super-targeted long tail keywords virtually overnight.
Wix Dynamic Pages allow you to almost effortlessly scale your content for relevancy across any number of geographic locations. You're able to create a unique page for each and every area you want to rank for that is both geographically relevant and keyword optimized in the eyes of Google.
You're able to create a database of variables that you can use to generate unique location specific pages. Our local SEO strategy involves creating a database table of city names which you can use to generate hundreds of unique keyword optimized pages.
Each page is optimized using the methods we discussed previously. You're able to include city relevant page titles, text content, images, meta data and more. You're able to do this by structuring your database properly. We've found the easiest way to do so is to create a CSV file beforehand with all relevant data items listed under properly titled columns. Wix allows you to then import this data and use it to create your dynamic city pages.
By planning ahead and structuring the generated pages to be as LSI keyword friendly as possible, you're able to create geo-optimized topical pages that rank for dozens of keywords.
Real World Application of our Wix Local SEO Game Plan
The information we've presented isn't just theory – it works and works well for our local SEO clients. It's grounded in generally accepted SEO practices with a twist for application to Wix sites.
We recently began optimizing a website for a local Long Island adoption attorney. We followed through with the 5-step game plan and built out 353 unique location pages for every town in Nassau and Suffolk counties across Long Island and a bit into New York City as well.
The results speak for themselves. Properly optimized URL's, page titles and meta data fields allowed us to rank in a matter of minutes on page one of Google for numerous long tail keyword variations such as:
Long Island Adoption Lawyer
Long Island Adoption Attorney
Long Island Adoption Law Firm
Adoption Attorney in Rockville Centre
Adoption Lawyer in Rockville Centre
As discussed, each of these long tail keywords is a low search volume target but taken collectively, they do add up to a sizable potential audience. An audience that is laser-targeted and actively looking to speak with an adoption lawyer in their area.
What we'll do next is continue optimizing the individual content pages and the dynamic city pages as we gather more data from Google Analytics and Google Search Console. We'll also need to work on continuing a long-term link building campaign to improve domain authority and help with the more competitive/stubborn keywords. We'll sprinkle in citation building, social sharing, press releases and other off-page techniques to help reinforce that all-important geographic keyword relevancy.
In Conclusion
The Wix platform can be a game-changer for your local SEO campaign. The native tools and 3rd party marketing integrations make choosing Wix a no-brainer for the vast majority of small business owners looking to generate more local traffic, more local clients and more sales.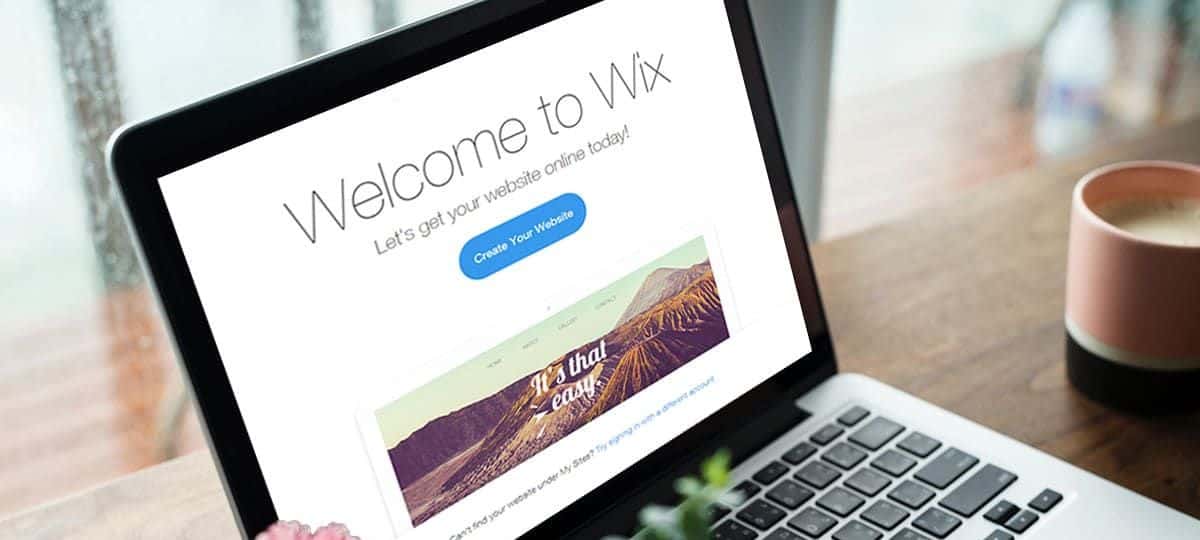 ---