The SEO Terminology Guide
Search Engine Optimization (SEO) can sound much like a foreign language to some of you who are unfamiliar with the topic. Search Engine Optimization (or SEO) is the process whereby one goes about updating or enhancing a website so that it stands a greater chance of improved rankings within the search engine results for a particular search term. The goal is to optimize your website so that potential clients or customers will be able to find your site at or near the top of the search engine results pages (SERP's) when looking for a business or site similar to yours. Like any specialized industry, SEO has its own unique set of terminology, definitions, and abbreviations.
This SEO glossary contains more than 200 of the most commonly used terms you are likely to hear and utilize in your efforts during your SEO career.
---
A
Above the Fold: This term refers to the initial view of the website that you will see without scrolling down.
Adsense: A contextual advertisement provided by Google. These ads are plain text with no graphics, this is a minimalized ad to optimize load speeds. This is a popular way to gain revenue from ads.
Adwords: An online advertising platform developed by Google that enables businesses to run ads aimed at highly targeted audiences.
AHREFS: A popular tool used for performing backlink analysis, URL rankings, preparing audit reports, and more.
Alexa Rank: Alexa is an Amazon provided analytic tool that provides both free and paid website data metrics. Alexa ranks top level domains by the projected amount of traffic coming to the site. The rank reveals how well a website is doing as compared to other websites.
Algorithm: A sequence of rules or steps designed to produce a specific outcome from a set of inputs.
Algorithmic Penalty: Designed to punish websites and users that try to "hack" or "cheat" their way to the top of Google. The punishment consists of your site being removed from search results and/or dramatic drop in rankings.
Algorithm Update: Revisions that occur to the algorithm, sometimes resulting in a change in SEO rankings.
Alternate Text: A piece of code that is attached to an image that provides a description represented by text. The user does not see this text but, the search engine uses it to understand what an image depicts.
Accelerated Mobile Pages (AMP): An open source program (from Google) that provides a coding structure that helps to load web pages better and faster.
Anchor Text: The visual, clickable text of a hyperlink.
Authority: A term used to describe how credible and popular a website is.
Authorship: This is established when you link your Google Plus profile to your content (post or page).
---
B
Backlink: A link from an external source that may send traffic to your website. Backlinks are crucial to SEO.
Below the Fold: Refers to the section of the website that is seen only after scrolling down.
Black Hat SEO: Prohibited techniques used to increase a sites SEO or page rank that violates the terms of service of search engines.
Blog: A website or section of a website that consists of informal or conversational style articles. In digital marketing a blog is a great tool for SEO.
Bot: An automated software application that is programmed to carry out a series of tasks automatically over the internet.
Bounce Rate: The number of visitors who enter a site and leave a site before viewing any other pages within that site.
Brand Keywords: Cohesive words that communicate to others the essence of your business and what you want to be known for. They often include the name of the company or organization.
Brand Mentions: Reviews, feedback, complaints, praise and posts about your brand typically published on social media, website blogs or articles.
Breadcrumbs: A form of navigation for visitors to find their way around your website. This is important not only for SEO, but also for usability of your website.
Broken Link: A link that no longer connects to a webpage. This can be caused by a website that is no longer available, a webpage not having a redirect or the URL structure of a website changing.
---
C
Cache: Method for storing data that later can be accessed much quicker. A cached page is a web page that has been saved by a search engine on its server or by a user's browser on their computer or smartphone.
Call to Action (CTA): A device designed to prompt an immediate response or encourage an immediate sale. Some examples are "Buy Now", "Call Now", or "Start Your Free Trial".
Canonical URL (rel=canonical): Conveys to a search engine which specific URL is the master copy of a page. This prevents a search engine from penalizing a website for duplicating URLs.
Completely Automated Public Turing Test to Tell Computers and Humans Apart (Captcha): A security feature used as a responsive test to determine if a user is human or a computer.
Citation: An online mention of sources you've used in your research.
Click-Through-Rate (CTR): The percentage of users who clicked on your ad after viewing it.
Co-Citation: When a website or brand is mentioned or cited by two independent and different sources that are not physically linked to one another.
Competition: The effort of two or more parties to secure the business of the third party – or simply put, those websites competing for the same keywords and traffic as your website. It is important to complete a competitive analysis to fully understand your strengths and weaknesses in comparison to your competition.
Content: Valuable, relevant, and consistent data created for a website to attract and retain a clearly defined target audience.
Content Delivery Network (CDN): A group of geographically distributed servers that work together to provide quick delivery of internet content and media.
Content Management System: Software that allows you to create and manage content on your website such as text, graphics, design and even code.
Content Marketing: Marketing that focuses on the creation, publishing and distribution of content for a target audience through the internet.
Content Uniqueness: Content that is original and not duplicated anywhere else. Unique content is rated highly by Google and other search engines.
Conversion: A desired user generated action performed on your site such as purchasing an item, completing a form, etc.
Conversion Rate: The number of users that visit your website and complete the desired action out of the total number of website visitors.
Cookie: Data stored on a user's computer by a web browser or site that stores preferences for future requests.
Cost Per Click (CPC): The price you end up paying when a user clicks on your ad.
Cost Per Thousand (CPM): Measures the cost of an ad per 1,000 impressions.
Crawl: The action of a robot, which is programmed to automatically surf the web, categorizing and analyzing each site it finds.
Crawl Budget: The concept that a certain amount of time is assigned to a bot crawling and indexing a specific site.
Crawl Error: The bot cannot reach the intended destination using one or more URLs on your site.
Curated Content: Content that surrounds a specific subject matter and which may be collected from various third party sources.
---
D
Dedicated Hosting: An option for website hosting that provides and is responsible for the equipment, dedicating an entire server to the client's website.
Deep Linking: A backlinking strategy used to suggest a page deeper within the website page hierarchy as opposed to the landing page or home page of the site.
De-Indexed: Being removed from Google Search.
Directory: An online listing of businesses.
Disavow: Allows websites to discount the value of an inbound link, helps to prevent against link-based penalties.
Do-Follow: A descriptor of links that search engines crawl and count as votes of quality.
Doorway Page: Traditionally low-quality pages that are specifically designed to attract visits using specific keywords which then redirect to another page.
Domain Authority: A value between 1 and 100 that a web domain is assigned which is used to predict how well the site will rank in the SERPs. A metric developed by MOZ.
Dripfeed: Communication method that sends or "drips" a prewritten set of messages to customers and prospects over time.
Duplicate Content: Content that appears identical or very similar on more than one web page within a domain or across multiple domains.
Dwell Time (Time Spent on Page): The amount of time between a user clicking on a search result and returning back to the SERPs.
---
E
E-A-T (Expertise, Authority, Trust): These are among the top 3 considerations or signals for page quality within the Google Algorithm.
Editorial Link: Traditionally refers to a high domain authority backlink earned from one of the larger online news, magazine or publisher sites such as Forbes, Entrepreneur, etc.
Engagement: Measurement of user activity on a website or page tracking clicks, views, etc.
Entity: People, places or things. An entity search consists of bots understanding user intent while discovering additional verified sources to answer a search query.
Exact Match Domain (EMD): A domain name specifically registered and used for matching a search engine query and other close queries.
External Link: In-content links that direct offsite to a link destination on another website.
---
F
Featured Snippet: A brief summary of an answer to a user's search that is displayed at the top of Google search results.
Feed: A program or page that automatically provides another program with information. May refer to a blog feed which is usually a date-sorted list of blog articles with a brief description for each articles linking to the full articles.
Footprint: A unique set of traceable activities, contributions and communications.
Footer Link: Additional links located in the footer of the site that can be SEO optimized. Footer links are recommended for UX best practices.
Funnel: A marketing strategy in which you are constantly "funneling" in new leads to your business in hopes of gaining a sale and relationship with that user. Usually involves a series of pre-defined steps or actions guiding your visitor to perform a specific action.
---
G
Google Alerts: A service offered by Google that allows users to monitor the a specific website for updates or changes or even allows the user to track all of Google for specific mentions of keywords or topics.
Google Analytics: Tracks and reports website traffic and associated metrics, offered through Google as a free service.
Google Auto Suggest: Automated search suggestions provided by Google as the user types in queries into the search box.
Google Dance: An SEO slang term used to describe massive ranking fluctuations that happen over a short period after content updates, algorithm updates or other significant changes.
Googlebot: A web crawler used by Google to collect data from the internet to build a searchable index of all websites and webpages.
Google Keyword Planner: A tool within the Google Adwords platform for performing PPC campaign keyword research and extracting useful historical search volume, cost-per-click and other data.
Google My Business: An internet-based service for business owners allowing users to provide business specific data that feeds into Google Maps and other Google SERP features.
Google Sandbox: An undefined period of time lasting from a few weeks to a few months where newer websites or newly updated websites struggle to gain significant rankings. The SEO theory is that Google uses this time period to measure the trust and authority of a new site and/or help prevent search result manipulation.
Google Search Console: A free service provided by Google that allows webmasters to check indexing status and optimize visibility of their websites.
Google Sitelinks: Hyperlinks to the subpages of a website that appear under certain Google listings in order to help users to better navigate the website.
Google Slap: A slang term for an algorithmic penalty levied by Google towards websites that do not meet certain standards.
Google Trends: A website which analyzes the popularity of top search queries in Google Search across various regions and languages.
Google Webmaster Guidelines: An annual listing of the official best practices that website owners should be adhering to in order to meet Google's quality search standards. These guidelines are broken down into design and content, technical and quality related topics.
Google Webmaster Tools: See Google Search Console above. Older name for Google Search Console.
Gray Hat: A combined strategy of using both accepted and frowned upon SEO practices in hopes to improve SERP positioning of your website.
Guest Blogging / Guest Posting: A widespread content marketing strategy whereby one publishes relevant content on a 3rd party website which then links back to the author's original site. This strategy helps to strengthen one's backlink profile while also providing traffic, branding and visibility benefits as well.
---
H
Header Tag: Typically, the title and subtitles of a post or other emphasized text on the page.
Homepage: The primary landing page and first page of a website that typically acts as an overview of the website with a means to navigate to more detailed inner pages and sections of the site.
Hummingbird: Major Google Algorithm update initially rolled out in 2013 with various minor evolutions since then. It marked Google's first major attempt at improving the search engine's ability to understand the context behind a search query instead of relying on strict keyword searches.
HTML Sitemap: A standard page used to list and organize links to each of the individual pages, blog articles, categories, products and other information on your website.
HTTP/HTTPS: Hypertext Transfer Protocol (HTTP) is the foundation for transmitting and receiving data across the internet. Secure Hypertext Transfer Protocol (HTTPS) allows for authorization and secure transactions.
Hyperlink: A link which opens another page or website for the user. It is typically activated by clicking on the highlighted or underlined text within a webpage.
---
I
Image Filename: File name and type for an image. You are able to make your image filenames as keyword friendly as possible for improved SEO rankings.
Image Sitemap: Helps Google discover images that might not be found otherwise and allows you to indicate images on your site that you want Google to crawl and index.
Image Title: Describes the image so search engines and screen readers can understand what the image is.
Impression: When an advertisement or any other form of digital media renders on a user's screen.
Inbound Link: A hyperlink on another website that leads to your site.
Index: Organization of information that occurs after crawling which allows pages to be discovered via search engines.
Internal Linking: A link from one page to another within the same website.
---
K
Keyword: Most fundamental and crucial element of SEO. Keywords are words and phrases that are entered into a search engine.
Keyword Cannibalization: Occurs when pages on the same site are competing against one another for the same keywords.
Keyword Density: Measurement in percentage of the number of times a specific keyword or phrase appears compared to the total number of words in a page.
Keyword Difficulty / Keyword Competition: Difficulty is a handy metric which helps you to understand how hard it will be to rank for any search query during your keyword research process. Competition is a measure of how difficult it will be to rank for a particular keyword.
Keyword Optimization: The act of researching, analyzing, selecting and implementing the best keywords to target to drive qualified traffic from search engines to your website.
Keyword Rankings: Where your site is ranked in search engines for a keyword. This has a major impact on website traffic, lead generation and conversions.
Keyword Research / Keyword Analysis: Research determines what your company is known for. Analysis is the process of analyzing the keywords or search phrases that will drive visitors to your website through both organic and paid search.
Keyword Stuffing / Keyword Spam: Stuffing is an SEO technique where a site is overloaded with keywords to improve a pages SEO ranking. Keyword stuffing may lead to a Google penalty or reduced rankings.
Knowledge Graph: Helps users to find answers to their questions without ever leaving Google for a third-party site. Usually the graph is present in the right hand column of a standard search results page.
Key Performance Indicators (KPI): Specific, quantitative marketing metrics used to help measure progress towards a defined goal.
---
L
Landing Page: The first page a visitor lands on when visiting your website. Traditionally, dedicated landing pages are implemented to convert visitors to leads for individual paid or organic campaigns.
Latent Semantic Indexing (LSI): An algorithmic method of content analysis designed to uncover keyword synonyms based on context.
Link: An HTML object that allows you to jump to a new location when you click or tap it.
Link Bait: Creating content that attract other websites to create backlinks because they want to, not because you ask them.
Link Building: The process of acquiring hyperlinks from other websites to your own.
Link Diversity: Diversification of the type of links within your backlink profile. Most naturally occurring link profiles will contain a varied mix of text links, image links, dofollow links, nofollow links, etc.
Link Juice / Link Authority / Link Equity / Link Love / Link Popularity: The value or equity passed from one page or site to another by a backlink.
Link Exchange: A confederation of websites that operate similarly to a web ring.
Link Farm: A domain or website which was specifically created to provide links to other websites in order to influence their SEO rankings.
Link Profile: The makeup of links directing to your site.
Link Reclamation: Finding, fixing, and replacing online content where your brand or company has been improperly linked.
Link Relevancy: How compatible your keywords and backlinks are in relation to your website.
Link Spam: Low quality or irrelevant backlinks usually created en masse.
Link Text: The visible, clickable text in a hyperlink.
Link Velocity: The rate at which you generate backlinks to your domain or website.
Local Citation: Any online mention of the name, address and phone number (NAP) of a local business.
Local SEO: Effective way of marketing a business in a local area or specifically targeted locale.
Long Tail Keywords: A phrase that aims to capture search traffic from a specific search query. Usually refers to keyword phrases of multiple words strung together.
---
M
Manual Penalty / Manual Action: A search engine penalty levied against a website for violations of suggested best practices. The penalty may result in reduced rankings or removal from the search index completely.
Meta Description: The blurb of information you see below a link of a search result.
Meta Keywords: Snippets of text that describe a page but are only seen in the page's code.
Meta Robots: An HTML tag in the header of a website that helps to control what search spiders have access to or provide specific directives to the crawlers.
Meta Tags: An HTML tag that describes the webpage.
Mobile-Friendly: Meaning a webpage can be viewed as intended on a mobile device or tablet.
Mobile First Index: The mobile version of your website becomes the dominant page that Google uses to determine rankings.
Money Site: Slang term for the site that you are focused on ranking. The site that you will be building links to.
MozRank: Essentially a link popularity score developed by Moz that reflects the importance of a web page on the Internet in relation to others.
---
N
Natural Language Processing (NLP): The ability of a computer program to understand human language as it is spoken. NLP is a component of artificial intelligence (AI).
Natural Links: Occur when external webmasters, bloggers or website owners link to your content because they think it's useful for their readers and adds value to their website or pages.
Negative SEO: The usage of unethical and black hat techniques to sabotage a competitor's SEO rankings.
Newsjacking: Linking your brand to topical news stories with the goal of generating media attention.
Niche Keywords: Groupings of tightly related keywords that can be used to drive PPC marketing, Organic SEO and other niche marketing strategies.
Noarchive Tag: HTML tag which prevents Google from showing the cached link for a page in their search results.
Nofollow: An HTML tag which allows webmasters to control whether or not search engines follow a link to its final destination. Also used to prevent passing "link juice" to the page being linked to.
Noindex: A value in a meta tag that can be added to the HTML code of a webpage to suggest search engines to not include that particular page in its list of search results.
(Not provided): Users will not get the keyword information in Google Analytics that many are used to seeing.
---
O
Off-Page SEO: Refers to page ranking factors that occur off your website, like backlinks from other sites.
On-Page SEO: Factors you can control on your own website to influence your SEO ranking.
Online Reputation Management: The act of monitoring, addressing or mitigating SERPs or mentions in online media and web content.
Organic Search Results: The non-paid results on any search result page.
Orphan Page: Pages that are complete but after a period of time their destination URL is removed or becomes unavailable as they are not linked to or by other pages on your website.
Outbound Link: Meant to take you elsewhere. Links that direct you to another website.
Outreach: Typically refers to outreach link building whereby you are reaching out to potential targets in the hopes of generating valuable backlinks to your site.
---
P
PageRank: A Google derived calculation that evaluates the quality and quantity of links to a webpage to determine a relative score of that page's importance and authority on a scale of 0 to 10. Google no longer makes their PR scores public.
Page Authority: A metric to predict the ability for a specific page to rank in search engines. A measure of how authoritative your webpage may be in relation to similar pages.
Page Loading Time / Page Speed: The amount of time it takes to load your page within a desktop or mobile browser. Has become an increasingly important ranking factor in recent years.
Page Title: Short description of a webpage and appears at the top of the browser window and in SERPS.
Pageviews: Total number of times the page on the website has been visited.
Panda Algorithm: Reduces the prevalence of low-quality, thin content in search results and to reward unique, compelling content.
Penguin Algorithm: Catches the bad linking and overstuffing of keywords.
Pigeon Algorithm: Designed to tie Google's local search algorithm closer to their web algorithm and to improve ranking parameters based on distance and location.
Plugin: A piece of software that acts as an add-onto a web browser and gives the browser additional functionality.
Pay-Per-Click (PPC): Campaigns in which advertisers pay a fee each time one of their ads is clicked.
Press Release: A tool of communication between the PR staff and the media.
Primary Keywords: The core keywords used to describe the focus or purpose of your website or content.
Private Blog Network (PBN): A network of authoritative websites that are used to build links to your money website to rank higher in Google search. Is considered a blackhat SEO technique.
Proximity (Local Search): A measure of the physical location of your business in relation to whoever is searching for it.
---
R
RankBrain: A component of Google's core algorithm which uses machine learning to help determine the most relevant results to search engine queries.
Rankings: Refers to a websites position in the search engine results page.
Rank Checker Tool: Used to detect the position of a website in the search engine rankings.
Readability: The ease with which a reader can understand the written text.
Redirect: Automated forwarding from one URL to another URL.
Referral: Usually refers to a website visit that is derived by clicking a backlink on third party website. A visit that did not derive from an organic search or ad click.
Relevance: The quality or state of being closely connected or appropriate to a term being searched.
Reputation Management: Highlights and amplifies positive brand content like customer reviews through traditional and digital marketing channels.
Responsive: Usually refers to mobile responsiveness. Provides every user with a great viewing experience on all their different devices as the website automatically adapts to screen size and orientation.
Rich Snippets: Describes structured data markup that site operators can add to their existing HTML, which allows search engines to better understand what information is contained on each web page.
Robots: A software application that runs automated tasks over the internet.
Robots.txt: Also known as Robot Exclusion Protocol or Standard is the text file that tells web robots or search engines which pages on your site to crawl.
Roundups: A blog post summary of facts or events.
RSS Feed: Rich Site Summary is a type of web feed which allows users to access updates to online content in a standardized, computer-readable format.
---
S
Schema: Or schema markup is a collection of microdata tags that can be added to the HTML code of a webpage to improve the way search engines read and represent your page in SERPs.
Search Console: A free web-based SEO tool provided by Google for webmasters to track both indexing and crawling stats.
Search Engine: A program that searches for and identifies items in a database that correspond to keywords or characters specified by the user.
Search Engine Results Pages (SERPs): Pages that search engines display in response to a query by a searcher.
Search Engine Penalty: An action taken against a website participating in deceptive or Black Hat SEO techniques.
Search Engine Submission: An effective tool of web promotion. The direct submission of a website to a search engine.
Search Operators: A character or string of characters used in a search engine query to narrow or focus the search.
Search Term / Search Query: A word or phrase that a user enters into a search engine.
Search Volume: The number of searches that are expected for a keyword within a certain period (usually monthly volume).
Search Engine Optimization (SEO): The process of making a web page easy to find, easy to crawl and easy to categorize in the hopes of higher rankings.
Search Engine Marketing (SEM): A form of internet marketing that involves the promotion of websites by increasing their visibility in search engine result pages primarily through paid advertising.
SEO Audit: The process of analyzing how well your web presence relates to best practices. Identifies as many foundational issues affecting organic search performance as possible.
SEO Copywriting: The art of written content creation undertaken with specific SEO techniques and goals in mind.
Shared Hosting: A web server that is shared by multiple website hosting clients.
Site Architecture: The approach to the design and planning of websites that require particular attention to the business plan, usability, web content, interaction design, information architecture and web design.
Sitelinks: Provide advertisers the ability to promote additional links to their website within a singular PPC ad. Also refers to the additional website links Google may choose to highlight in an organic search result.
Sitemap: A list of contents of a website which can be accessed by users as well as bots or crawlers.
Sitewide Links: A link that appears on most or all website pages.
Social Media Marketing (SMM): A form of online marketing which utilizes social media platforms to produce content that users will share with their social network to help increase brand exposure and broaden customer reach.
Social Bookmark: A way for users to store, organize, search and manage "bookmarks" of webpages.
Social Signals: A webpage's collective shares, likes and overall social media visibility as perceived by search engines.
Spider: A software program which follows the link throughout the internet & indexes website contents.
Splash Page: An initial site page used to capture the user's attention for a short amount of time as a promotion or lead-in to the site homepage or to tell the user what kind of browser and other software they need to view the site.
SSL Certificate: Blocks of code on a web server that provide security for online communications.
Stop Word: The words that filter out before and after processing of natural language data text.
Subdomain: A part of your website separate from the rest of your sitemap but without an entirely new or unique URL.
Subheading: HTML tag used to identify subtitles within text content. Uses tags such as H1, H2, H3 and so on to establish a hierarchy of importance within an article.
---
T
Taxonomy: Refers to website taxonomy or classifying digital content, allowing you to connect, relate, and organize your website's content for maximum user-friendliness.
Term Frequency: or Keyword Frequency. A measure of how often a particular keyword or phrase appears with the entirety of an article or across an entire website.
Tier 1: Or Tier 1 Backlinks are those websites or pages that link directly to your website or money site.
Tier 2: Or Tier 2 Backlinks. Web properties that link to your Tier 1 backlinks as opposed to being directly linked to your website.
Tier 3: Or Tier 3 Backlinks. Web properties that link to your Tier 2 backlinks as opposed to being directly linked to your website or Tier 1 links.
Tiered Link Building: Building links from a variety of sources to your website in a tiered or layered structure. Not all links are pointing directly to your website but some may pass link juice through other web properties to your money site.
Title Tag: An HTML element that specifies the title of a web page.
Trackback: A link to your site from another site, which search engines will recognize.
Traffic: Web users who visit a website. Traffic is measured in visits, sometimes referred to as sessions.
Trust Flow: A rating metric created by Majestic predicting how trustworthy a webpage is as compared to other websites.
TrustRank: Measures trust signals that help search engines to evaluate whether or not core ranking signals are legitimate. Helps to combat spam.
---
U
Uniform Resource Locator (URL): A reference to a unique source on the internet.
Unnatural Link: Artificial links mainly intended to manipulate a page's rankings. Also referred to as spam links.
Usability: A quality attribute that assesses how easy user interfaces are to use.
User Experience (UX): Understanding of users, what they need, what they value, their abilities, and also their limitations and implementing that understanding into designing user-friendly websites. Includes aspects of branding, design, usability and function.
---
V
Video Optimization: Optimizing videos to be indexed and rank on the search engine result pages for relevant keyword searches.
Visibility: The overall presence of a brand or its products and services across the internet and social media.
Voice Search: Voice recognition technology that allows users to perform searches by speaking into a device.
---
W
Web 2.0: Sites that emphasize user-generated content, usability, and interoperability.
Web spam: Any form of web page content that is created to improve search rankings without regard to any value for the user.
White Hat SEO: Any practice that improves your search engine rankings on a SERP while maintaining the integrity of your website and staying within the search engines' terms of service.
---
X
XML Sitemap: Convey information about one thing: the URLs that makeup each site. Each XML sitemap follows the same basic form.
---
#
301 Redirect: Can be used to inform the search engine if a website or URL has been permanently moved. You would ideally want to use a 301 Redirect to redirect traffic to the new URL or website and to pass along the traffic from your old website to the new website.
404 Not Found: Occurs when a website page does not exist. Some common reasons for this would be if a website was deleted or renamed.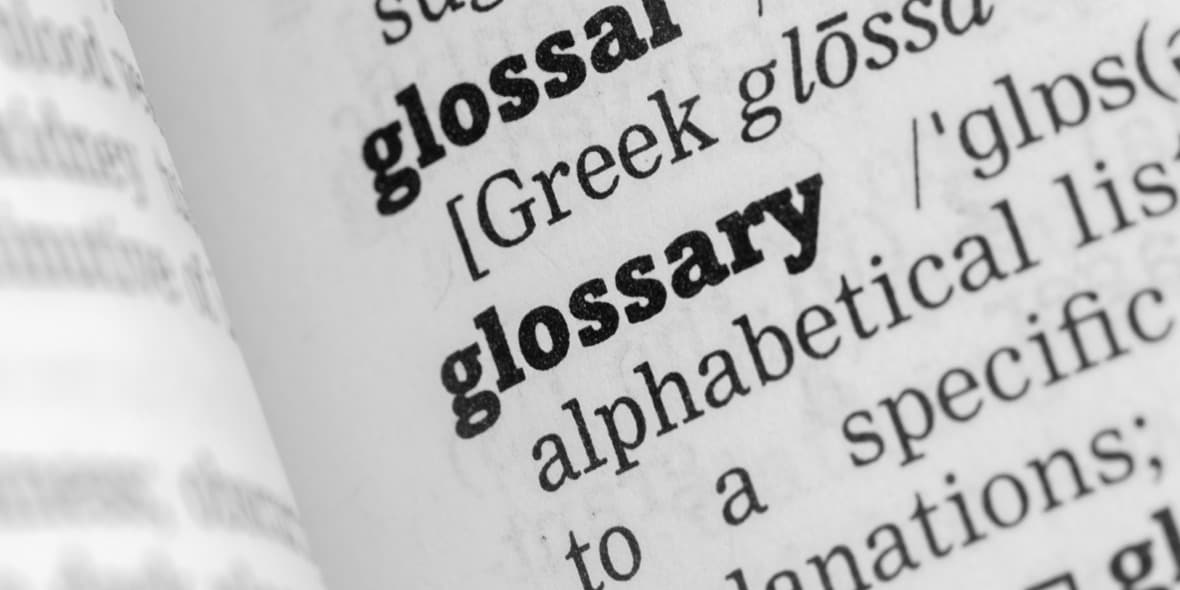 ---